Ingredients
1 cup milk
2 tbsp. lemon juice
2 cups vanilla ice cream
1 pint blueberries
1 tbsp. sugar
Method
Place all ingredients in blender; cover and process on high until smooth. Pour into 4 glasses and serve.
---
Ingredients
2 Avocado, peeled
1 Lime
1 clove garlic, minced
2 Green Onions, diced
1 hot house tomato, seeded and chopped finely
Coarse salt
Method
Scoop the avocado out of skin and place in a medium-sized bowl. Squeeze the juice of a lime over the avocado.
On a wooden cutting board, sprinkle about ½ tsp. of coarse salt over minced garlic. With the side of a knife, press the salt into the garlic repeatedly. The salt will start to break down the garlic until you have a nice garlic mash. Place in the bowl with the avocado.
Add diced green onions and chopped tomato. With a fork, mix and mash all the ingredients to desired consistency. Taste and add more salt, as desired.
Serve immediately with tortilla chips.
Ingredients
4 apples
½ cup brown sugar
2 tsp. ground cinnamon
4 tbsp. butter
Method
Core the apples, removing core, seeds and stem but do not cut all the way through. Place in a small casserole dish. In a small bowl, mash together with a fork, the brown sugar, cinnamon and butter. Stuff each apple evenly with the mixture. Sprinkle with a dash of more cinnamon.
Bake in a preheated oven set to 350F for 15 minutes, until the apples start to soften and the sugar starts to caramelize.
Serve each apple with a scoop of vanilla ice cream and butterscotch sauce drizzled on top
---
ZUCCHINI AND TOMATO MEDLEY
Ingredients
1 lb. zucchini, sliced
1 onion, sliced
1 clove garlic, minced
½ tsp. basil
½ tsp. oregano
Salt to taste
3 tbsp. butter
1 tomato, cut into 12 wedges
1 cup shredded mozzarella
Method
In a large skillet, sauté first ingredients in butter until crisp-tender.
Gently toss in tomato wedges and mix in. Sprinkle with cheese. Remove from heat; cover and let stand for 1-2 minutes or until cheese is melted.
Ingredients
3 Celery stalks, cut into 4" sticks
4 Carrots, cut into 4" sticks
1 English Cucumber, cut into 4" sticks
2 Red Peppers, seeded and cut into 4" sticks
1/3 turnip, cut into 4" sticks
1 lb. Asparagus Spears, trimmed to 4", steamed until crisp-tender
Dip:
1 clove garlic, minced
1 ½ cups sour cream
½ cup mayonnaise
Salt to taste
½ cup milk
¼ cup lemon juice
1 tbsp. dried parsley
Method
Arrange all 6 varieties of vegetables on a platter.
For dip, mix together last 7 ingredients in a medium bowl.
To serve, place dip in centre of platter or drizzle over vegetables.
---
ORANGE & SPRING MIX SALAD
Ingredients
5 oz. bag of Spring Mix
2 oranges, peeled and cut into sections
1 cup pomegranate seeds (optional)
1 red onion, sliced into rings
¼ cup EVOO (Extra-virgin olive oil)
3 tbsp. red wine vinegar
1 tsp. sugar
Salt and pepper to taste
Method
On a large platter, arrange spring mix. Evenly place sections of orange and slices of red onions and pomegranate seeds over the salad mix.
In a small bowl, or a canning jar with a tight-fitting lid, mix dressing ingredients until combined.
Drizzle over salad just before serving.
---
CHRISTMAS DINNER - STEAMED BROCCOLI WITH THYME CHEESE SAUCE
Ingredients
1 Broccoli, cut into small florets
½ cup butter
¼ cup flour
2 cups milk
2 cups cheddar cheese, shredded
½ tsp. salt
1/8 tsp. garlic powder
1/8 tsp. dried thyme
Method
Place broccoli in steamer basket over about an inch of simmering water. Cover and steam for about 7-9 minutes, or until broccoli is tender. Alternatively, you can boil the broccoli for about 7 minutes.
While broccoli is cooking, prepare the cheese sauce. In a large saucepan, melt the butter over medium heat. Stir in the flour until smooth. Add the milk and bring to a boil, stirring frequently. Cook and stir for 2 minutes, or until the mixture has thickened. Reduce the heat to low and add the cheese and seasonings. Cook and stir until cheese has melted.
Place the broccoli in a serving dish and pour the cheese sauce over.
---
SWISS CHEESE ASPARAGUS TART
Ingredients
1 lb. Asparagus, ends trimmed so all pieces are approximately the same length (about 8" long)
1 sheet frozen puff pastry, thawed
2 cups Swiss Cheese, shredded
1 tbsp. olive oil
Salt and Pepper
Method
Preheat oven to 400F. Dust counter lightly with flour and roll puff pastry into a rectangle, about 16" long by 10" wide. Place dough on cookie sheet. With sharp knife, lightly score a rectangle within 1" of all sides to create a smaller rectangle. Be careful not to pierce the dough all the way through. This smaller rectangle is giving you a frame to work within. Inside the smaller rectangle, pierce the dough all over with a fork. When placed in the oven, this smaller rectangle will allow the heat from the oven to come through the dough and not "puff" up. The sides will puff up creating a dough border.
Bake in preheated oven for about 15 minutes, or until golden.
Remove pastry from oven. Sprinkle Swiss Cheese over inside of rectangle. Place the asparagus spears within the border (alternate ends and tips). Drizzle with olive oil and season with salt and pepper.
Bake for about 20-25 minutes, until asparagus is tender. Remove from oven and let cool for5 minutes. Slice tart in half lengthwise and then slice each length into 2" slices.
CHRISTMAS MORNING - BREAKFAST BAKE (MAKE AHEAD OF TIME) SERVED WITH FRUIT AND YOGURT
Ingredients
8 slices white bread, cubed
2 cups shredded cheddar cheese
1 tbsp. butter
8 oz. organic mushrooms, sliced
1 onion, diced
1 stalk celery, diced
7 large eggs, lightly beaten
3 ½ cups milk
½ tsp. salt
¼ tsp. pepper
6 strips of bacon, cooked and crumbled
2 Honeycrisp Apples
2 Bananas
2 Oranges
1 cup grapes
1 cup Vanilla Yogurt
Method
Grease a 9 x 13 inch casserole dish. Sprinkle the bread over the bottom of the dish and then sprinkle the cheese.
Heat butter in sauté pan. Saute mushrooms, onions and celery until onions and celery are soft. Evenly distribute mixture over the bread and cheese.
In a large bowl, whisk the eggs, milk, salt, and pepper. Pour evenly over bread, cheese and vegetables.
Sprinkle with bacon. Cover and refrigerate overnight.
Remove from refrigerator 30 minutes before baking. Preheat oven to 350F. Remove cover and bake for 50-60 minutes, or until a knife inserted in the middle comes out clean. Let stand for about 10 minutes before serving.
While the Breakfast Bake is in the oven, slice the apples, bananas and oranges into bite size pieces. Place in a serving bowl with the grapes. Drizzle vanilla yogurt over the top of the fruit.
Serve a piece of Christmas Morning Breakfast Bake with a spoonful of yogurt fruit on the side.
---
CARROT TURNIP & POTATO SOUP
Ingredients
1 tbsp. olive oil
1 pkg fresh cut (on the farm) Turnip
4 large carrots, sliced
2 celery ribs, sliced
1.5 lb of mini white potatoes, cubed
1 large onion, chopped
1 clove garlic, minced
1 900ml container of low sodium vegetable or chicken stock
1 ½ cups water
Salt and pepper to taste
1 cup whipping cream (35%), optional
Method
In a large pot, heat oil over medium heat. Add turnip, carrots, celery, and onions. Saute, stirring frequently, for about 10 minutes or until onions start to caramelize. Add garlic and sauté for 2 minutes. Add potatoes, stock, water, salt and pepper. Bring to boil, reduce heat to medium-low, cover, and simmer for 30-35 minutes. If soup becomes too thick, add more water.
Remove from heat and allow to cool briefly. Using an immersion blender (or regular blender), puree soup to smooth consistency. If using regular blender, puree in batches. Once desired consistency is reached, taste for seasoning and adjust as necessary.
Optional: For an extra smooth, rich soup, add whipping cream to pureed soup and heat on low until heated through.
Garnish with fresh parsley and chives. Serve with crusty rolls and a salad for a complete meal.
FASOLIA (GREEK GREAN BEANS)
Ingredients
1 tbsp. olive oil
½ onion, diced
2 cloves garlic, minced
1 lb. green beans, trimmed (about 2 cups)
1 (14.5 oz) can diced tomatoes (undrained), or stewed
½ tsp. salt
¼ tsp. pepper
Method
Heat olive oil in large skillet over medium heat. Add onion and sauté for 3-4 minutes. Add garlic and green beans and sauté for another 3-4 minutes. Add tomatoes, salt, and pepper. Stir to combine, cover and reduce heat to medium-low. Simmer for about 30 minutes, stirring occasionally. Once beans are tender, taste and adjust seasonings.
---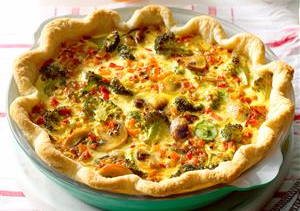 RAINBOW PEPPER AND BABY SPINACH QUICHE
Ingredients
1 frozen deep dish pie crust, thawed according to package directions
¼ each of red, orange and yellow pepper, diced
1 tbsp. olive oil
1 5 oz. bag of organic baby spinach
4 farm fresh eggs
2/3 cup of half and half cream
1 cup cheddar cheese, shredded
½ tsp. salt
¼ tsp. pepper
Method
Preheat oven to 350F.
Heat olive oil in sauté pan. Saute spinach for about 3 minutes until wilted. Spread spinach onto bottom of pie crust. Sprinkle diced pepper over spinach. In medium sized bowl, beat eggs until frothy. Add cream, cheese, and salt and pepper; mix together. Pour over veggies in pie crust.
Bake in preheated oven for 45 minutes, until crust and top of quiche are golden brown and when a knife inserted comes out clean.
Remove from oven and let cool about 10 minutes before slicing. Serve for brunch with fresh fruit or dinner with a salad.
Extra yummy with some Frank's drizzled over each slice!
---